Who this event is for
Everyone. The event is free but there are limited numbers.
Location
Royal Holloway, University of London Egham Campus.



About the event
Author Sarah Perry talks about her novel, The Sunday Times bestseller The Essex Serpent. Set in 1893 and firmly rooted in the author's home county of Essex, The Essex Serpent follows Cora, a keen amateur naturalist convinced that what the local people think is a magical beast may be a previously undiscovered species.
Join us to discuss the difficulties of the neo-victorian genre, the scientific discoveries of the nineteenth-century alongside the myth of folklore, and the practice of attempting to re-inhabit the victorian era. The evening will include a reading from The Essex Serpent and a question and answers session with Sarah.
About the author

Sarah Perry was born in Essex in 1979. She has a PhD in creative writing from Royal Holloway, and has been the writer in residence at the Gladstone Library and the UNESCO World City of Literature Writer in Residence in Prague. Her first novel, After Me Comes the Flood, was longlisted for the Guardian First Book Award and the Folio Prize, and won the East Anglian Book of the Year Award in 2014. She lives in Norwich.
Reviews
The Essex Serpent is a novel to relish: a work of great intelligence and charm, by a hugely talented author
- Sarah Waters

Had Charles Dickens and Bram Stoker come together to write the great Victorian novel, I wonder if it would have surpassed The Essex Serpent? No way of knowing, but with only her second outing, Sarah Perry establishes herself as one of the finest fiction writers working in Britain today.
- John Burnside

A big, warm, generous novel that wears its considerable wisdom lightly, The Essex Serpent is an absolute pleasure from start to finish - I truly didn't want it to end.
- Melissa Harrison

The Essex Serpent by Sarah Perry [is] a joyous and beguiling book that wrapped itself around me rather like its eponymous monster.
- Cathy Rentzenbrink

A blissful novel of unapologetic appetites, where desire and faith mingle on the marshes, but friendship is the miracle. Sarah Perry has the rare gift of committing the uncommittable to prose - that is to say: here is a writer who understands life.
- Jessie Burton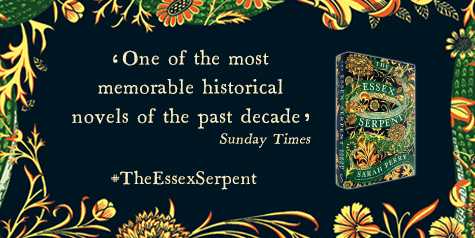 When Cora Seaborne's husband dies, she steps into her new life as a widow with as much relief as sadness: her marriage was not a happy one, and she never suited the role of society wife. Accompanied by her son Francis - a curious, obsessive boy - she leaves town for Essex, where she hopes fresh air and open space will provide the refuge they need.When they take lodgings in Colchester, rumours reach them from further up the estuary that the mythical Essex Serpent, once said to roam the marshes claiming human lives, has returned to the coastal parish of Aldwinter. Cora, a keen amateur naturalist with no patience for religion or superstition, is immediately enthralled, convinced that what the local people think is a magical beast may be a previously undiscovered species. As she sets out on its trail, she is introduced to William Ransome, Aldwinter's vicar.Like Cora, Will is deeply suspicious of the rumours, but he thinks they are founded on moral panic, a flight from real faith. As he tries to calm his parishioners, he and Cora strike up an intense relationship, and although they agree on absolutely nothing, they find themselves inexorably drawn together and torn apart, eventually changing each other's lives in ways entirely unexpected.Told with exquisite grace and intelligence, this novel is most of all a celebration of love, and the many different guises it can take.